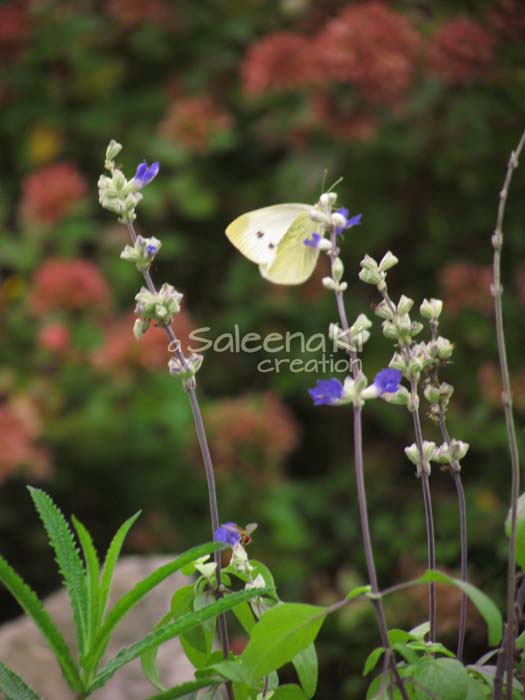 04 Apr

Butterflies-Bees & our Grand Flower Adventure

So far this season I just begun to see a few Butterflies. It is so exciting to see them after a winter without their colorful beauty. The first one I saw was on Mar 16th, a Cabbage White.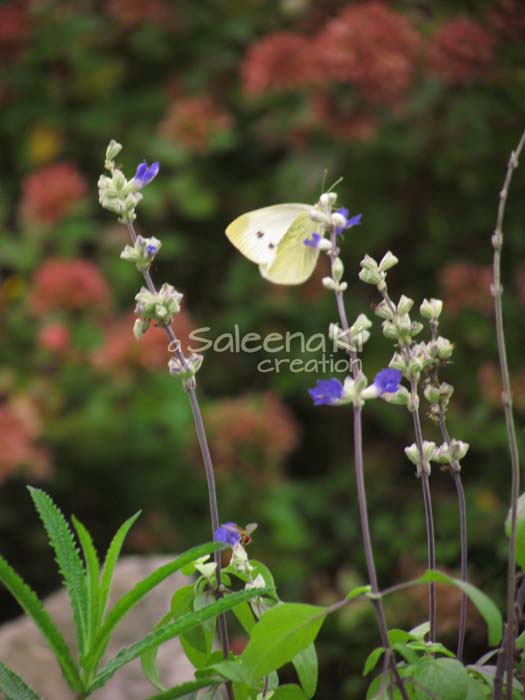 I also saw a few Honey Bees and that is the day the Redbuds bloomed! By the way, I learned you can eat the Redbud blossoms so I tried them in my salad and they taste delicious! At GardenSong2 I have 2 Redbuds in my front yard, Mary Redbud and Randy Redbud, named after my sister and brother who were twins in a past life.
On Mar 20th our Winter Pear Tree, Peartal, bloomed and it was so cold that night I had to cover my Tulips that were all just starting to poke through. I asked the Elementals and Fairies to please help keep all our fruit trees protected this year. Last year so many froze and we hardly had any fruit. Over the next few days Peartal's white petals fell on the walk out to the road and looked so romantic! Very pretty with the Orange, Yellow and Pink Tulips blooming, along with several varieties of Daffodils.
On April 1st I saw my first tiny orange Pearl Crescent Butterfly. No photo.
On April 2nd Hugh and I saw our first, what he calls, Punctuation Butterfly. It was either a Comma or Question Mark. Bright deep orange with jagged cut out looking wings. He was so fast, I got a few photos and am unsure how good they were.
On April 4th (today) I saw several black Spicebush and several light yellow Tiger Swallowtails. My neighbor and sister, Sissy, came over today and kidnapped me to go get some flowers a wonderful woman had given her. She said she needed someone to help dig them and there would be plenty for us both. When we arrived, on the other side of Lynchburg on the way to Flat Creek, the yard was full of early flowers and Dogwoods in bloom! Whitish Lime Green and deep Coral Pink, along with Pink Blossoms on some other trees. I love Dogwoods!
The woman came out to show us where to dig and before we were through was out again, telling us that she was so happy that her abundant spreading Yellow and Blue flowers were going to some wonderful homes. Sissy and I are both crazy in love with Flowers! There was a whole bed of them so we were very excited.
Then she walked us around her gorgeous gardens and kept pointing out more flowers and plants we could take starts of…Ferns, Hardy Begonias, Gladiolas, some blue/purple ones that looked like Bachelor Buttons yet much bigger. She said those would wilt but they would come back. Some of them were already blooming. Yellow green ground cover. She described the Yellow ones, Blue ones and ones that looked like Iris but weren't and had huge orange flowers that hung sideways…. so many! We filled up box after box and then bags and then the back of the truck! We drove away happy, tired and shaking our heads…
On the way home Sissy was wondering if we would ever get them all transplanted! She dropped my flowers off and I helped her unload hers. With a big hug I declared it was a very fun Flower Adventure. She said we were crazy! I agreed, as long as she meant crazy for Flowers! I said, "You got the flower love bug from your Mama, and I got the Flower love bug from mine and my Mama adopted you because you lost your Mama so you got double whammied! We both laughed. Sissy says that she never felt this way about Flowers until her Mama who loved Flowers passed on. It was then she started having these uncontrollable urges to plants Flowers! Her yard is a Flower Paradise! 
We split them and I laid them all out carefully in the shade. We had watered them earlier. It was almost dark and I had already prepared a trench in the Happy Morning Sun Garden that seemed perfect for the Blue ones. I already had planted Red and Green Cabbage, Baby Brocolli, Chinese Cabbage and Yellow Gold Marigolds. Those beds were full of many varieties of Marigolds last year and was a favorite hot spot for the Butterflies. Being right out my back door, I had lots of fun watching and photographing them the whole season!
After 5 years, GardenSong2 is becoming quite a lovely Butterfly-Bee-Pollinator Habitat!