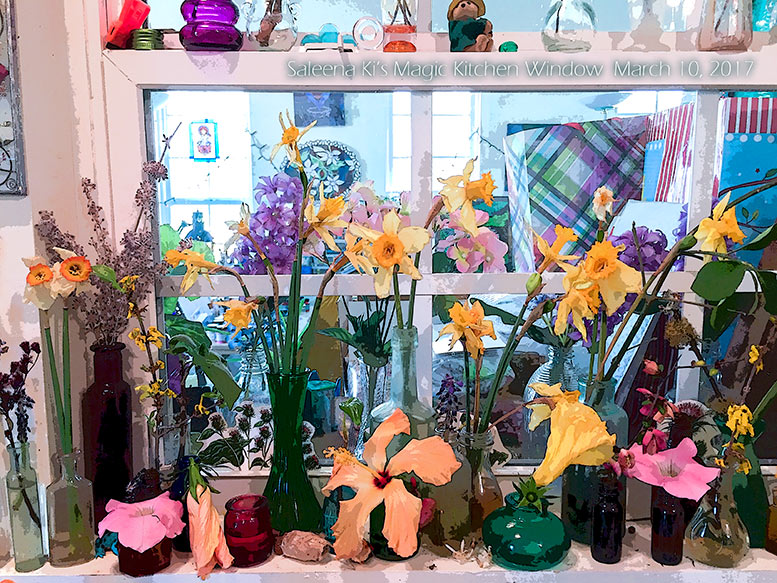 15 Mar

Please Eat the Daisies

This year has been phenomenal for the Daffodils. It is hard to believe they were so lush and abundant 2 weeks ago. It snowed Sat. It was sooooo cold today I didn't want to even poke my nose outside. Today I was looking at all the beautiful Daffodils in my Magic Kitchen Window and wondering if they are edible?

Then I found this fun information and slide show called
According to this, "Some flowers, however, even organic ones, can make you very sick if eaten. Daphne, foxglove, daffodils, and hyacinths are just a few examples of poisonous flowers that should not be used for food purposes. The slideshow above contains 42 examples of flowers that are safe to eat, but there are many others. Consult a reference book on edible flowers, or ask an expert in this area, before branching out further, and if you're not sure, don't eat it."
I found quit a few new FLOWERS I didn't know were edible. It gave me some new ideas about FLOWERS to plant next!
Last year I was happy to discover that the REDBUD BLOSSOM is edible! They taste great and look real pretty on a salad or sprinkled over dinner. I have 2 in GardenSong, Mary Redbud and Randy Redbud. Randy is already showing his pink cast. Mary is waiting for this cold snap to pass by until she blushes. 
So…
PLEASE DON'T EAT THE DAFFODILS!
&
PLEASE DO EAT THE DAISIES!
By the way, the Petunia's and Hibiscus in my Magic Window are from my GREENHOUSE! It has been wonderful to have so many of my FLOWER FRIENDS tucked in safe for the Winter. Previously I was carrying them in and out of the house all Winter long and many of them were just making it through! This is my first year with our Shelter Logic structure. It is more like a hothouse and I have much to learn. Most of the Plants thrived in this tropical environment, even with the occasional temps soaring up to the 100s before I could get it opened and cooled down. The Hibiscus LOVE it. Just like home!