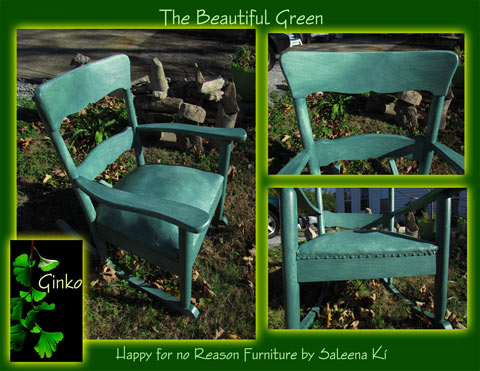 29 Mar

Happy for No Reason Furniture

One day I decided my front FLOWER PORCH GARDEN needed cheering up. I had a bunch of white pieces of furniture I wanted to upcycle. I had been to the recycle center a few weeks back and found some beautiful bright colors of paint and thought I might like to paint some furniture with it. I did, I went wild, let go and had soooo much fun. I used to do muraling and faux finishing so it was fun to revive some ancient skills that I had always enjoyed. Each piece became a playful story… 
The rocker is now a beautiful green with textures stroked in. I love Ginko Trees Leaves and have a lovely friend Tree at Laulima that gave me some. I dried them and might use them as stencils on the arms and back. One friend suggested I might glue them on with eco-friendly glue so I have the energy of the leaves right there.  Part of the fun was giving each piece of furniture a whimsical name. This one is now called The Beautiful Green after one of my favorite movies.

I painted an Apricot Orange table in faux wood-grain that is now Catalyst, the senior Cat's feeding station.

I painted a side table in Red undulating Waves.

 I painted a wooden Grow Box in Lavendar then puffed on some salmon sunset Clouds.

 

I had so much FUN and it made me so HAPPY to be CREATIVE and PLAYFUL in such a non-sensical way, I call it HAPPY FOR NO REASON FURNITURE!