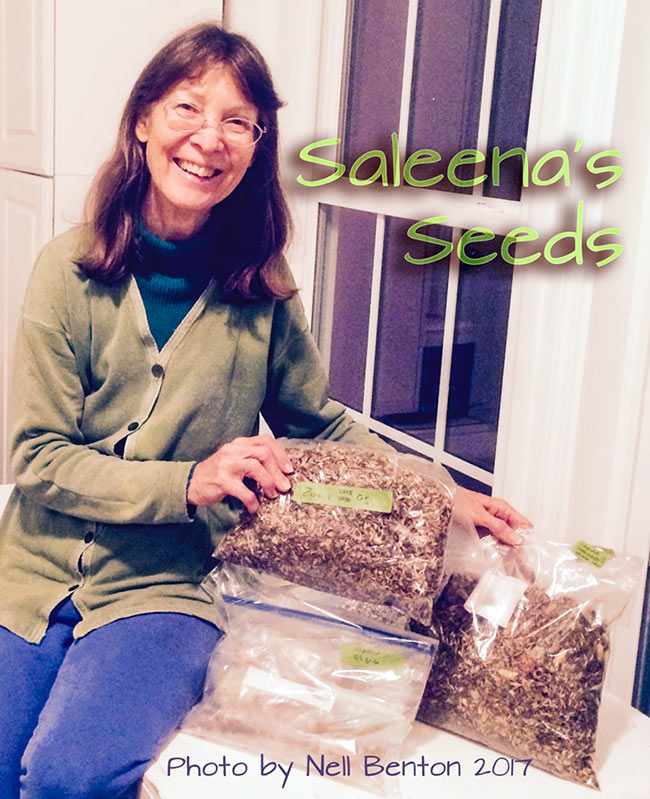 06 Apr

Saving SEEDS-Saving our Lives

This photo was taken by Handy Hugh's sister Nell during our SEED BAUBLE MAKING ADVENTURE. We made SEED BALLS out of clay, compost and many of the FLOWER SEEDS I had saved over the years. These were destined for tossing (Guerilla Gardening with Seed Bombs style) into our POLLINATOR HABITAT to increase the variety of host plants and nectaring food supply for our BEES and Butterflies. It was awesome to have my very own SEED BABIES used for such a supportive reason.
Saving viable, nontoxic, fertile, nonGMO, and even LOCAL SEEDS can be FUN, satisfying and is about taking steps toward a SUSTAINABLE RENEWABLE LIFE here on Mother Earth! I am certainly no expert. I am learning by my own curious and incessant love of co-creating with Nature here in our GardenSong Project. I just started doing it and have tweaked my ways according to the results I get. I learn more each year and have a very large amount of SEED now to choose from. This is the first year I will be starting many of my own Flowers and Vegetables from my own SEED.
Why Save SEEDS?
It's FUN!
Satisfying
You know the source of your food.
You learn something new.
It's sustainable.
Renewable.
Heathier for you and your FAMILY!
If we start saving Seeds and our own lives we can create a brighter lovelier future.
I Got Sick & Found Some Devastating Truths
I used to go to the store and buy any beautiful SEED PACKET that caught my eye and that I thought I would like to plant. Then I had a health crisis and began to look at everything I was doing. My health and along with my ability to tolerate many environments was failing so miserably. I got to where I couldn't digest my food. I became CHEMICALLY SENSITIVE and couldn't tolerate going anywhere or being around people anymore. My Adrenals almost stopped functioning, they were operating at about 25% and I almost died. Even if I didn't die, I was emotionally out of balance and tired tired tired.
I started investigating what might be happening. Then I learned some devastating truths about what is going on with our environment, and more astonishing what is going on with our FOOD and our SEEDS. I HAD to CHANGE and gradually I learned how to adjust my life and I did and I am still alive and doing everything I can to improve the quality of my health and my own environment. I can to that.
Then I read the book, Medical Medium by Anthony Williams and his stories gave me a whole new perspective on what might be happening to me. He shared so many new insights about all these "mysterious illnesses" or symptoms that make living in your body miserable and almost impossible. That made me even more determined to learn to grow organic, nutrient dense foods and herbs as medicine.
The Untold Seed Story
Today I am only addressing the small, personal Gardener or Homesteader here today. The whole BIG AG business is a whole 'nother BIG can 'o worms. Save that for another day. If you would like more reasons for saving your own seeds or buying ORGANIC, nonGMO HEIRLOOM SEEDS, read and watch this: The Now Being Told Untold Seed Story 
What Can I Do to Change Things?
In the bigger picture things might look pretty challenging, yet, there are things you can do personally, like ONLY BUYING ORGANIC, nonGMO (genetically modified organisms) or HEIRLOOM SEEDS or PLANT STARTS from a reputable place.
Bonnie Plants, a national wholesaler of vegetables and herbs, promotes sustainable gardening through…
Then you can save your own SEEDS from those plants to continue life's cycle for the plants you like and need. BONNIE PLANTS are nonGMO and easy to find. Once I began saving SEEDS I realized how fun it is! Best to learn to store them properly for longer life. 
How I Save Seeds
I just started gathering them… then learned as I went along. The main thing is they need to be stored very dry, so laying flower heads or seed pods out on a screen, even in the house, dries them. Then storing them in paper envelopes, here in the moist South, keeps them from molding. Even wrapping them in a paper towel, then into a little baggie can work, though with the slightest bit of moisture, they mold. There is much online to help with ideas… it is just exciting when your SEED STORE contains your own! Mine has grown so much, we were able to plant into our Pollinator Habitat with some of my own SEED.
There are so many ideas and tutorials online in the GREAT WORLD WEB it will be easy for you to get lots of ideas and instructions for exactly what you want to do. Here is one I found:
Seed Companies with a Mission
" If you're looking for seeds for your vegetable garden that are not associated in any way with Monsanto, or any of their seed-selling subsidiaries, like Seminis, look no farther…Each of the following seed companies have taken the Safe Seed Pledge and tested their stock to be free of GMOs."
Related Education