20 May

VK13 Universal Library Key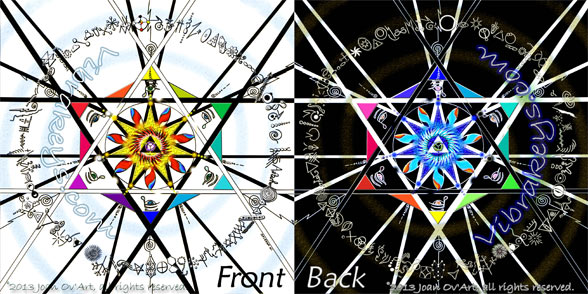 The Door is Open to Enter a Greater Reality
Are You Ready?
This design is FULL of SACRED GEOMETRY, both known and new. It contains SYMBOLS-GLYPHS & LIGHT LANGUAGE in the form of the ALL-In-ALL Ring made up of 2 designs back to back. God's Gold Key on the white background represents the Masculine side and Mother's Silver Ring on the black background represents the Feminine side. These light language keys are like a library cards to access omni-dimensional information and Universal Libraries of Knowledge.
VK13 Universal Library design is the Master Engine for the whole Vibrakey grid. It  includes 4 Power systems: Pyramid Power, 7 Fold Geometry, Super Collider, All-In-All-Ring made of God's Gold Key and Mother's Silver Ring which is made up of symbols that give access to a Universal Library of information. This is based on ancient Atlantean technology which is based on even more ancient technology. There are sounds, colors, names, math formulas, angelic keepers to be discovered within each symbol. By using your imagination, paying attention, observing; you will open up to whole new levels of your intuition and creativity.
Full guidance is included about how to use this key and lots of story about its co-creation and how we have used it is included in its G-13 Universal Library eGuide.
Universal Living Library
What are the possibilities of this Geometric Key?
You can:
Experience ancient technology through 4 Star Nations sharing their Power Systems. The thing that excites me about this is they co-created, cooperated in sharing these technologies into one design that is beneficial to all.
Increase the potency, energy and vitality of food, water or anything that gets near this Master Engine. Part of the design includes the Potentizer Engine that gifts this effect.
This design may support & activate your Thyroid & Reset your Endocrine System in a beneficial way.
This is an Omni-Dimensional Learning Tool, meaning that it offers you the opportunity to expand your awareness and increase your abilities to function in a much greater expanded reality now.
Touch into Father's Solar Power.
Melt into Mother's Lunar Heart.
Experience assistance in your Creation & Manifestation processes.
Be part of an Ancient Atlantean Technology being returned to Earth.
Learn how to share a Lemuria Spiral Handshake.
Learn how to travel this Stargate-Portal
Play with the ALL-in-ALL Ring = God's Gold Key & Mother's Silver Ring.
Learn how to Access Keys to the Living Universe and our Universal Knowledge Base.
Play with Light Language Library Keys. It makes a fun group game experience, or the focus of a personal or group meditation.
Create with Key Codes. Add the 144 Light Language Symbols intuitively to your Creative Projects.
Ways to Use VK13
You can use the Potentizer part of the design to increase the potency of anything you expose to it; food, water, supplements, materials, even yourself.
Use it to BUILD POWER GRIDS for healing and ceremony.
Testimonials
Here are some interesting observations and ways to use this powerful POTENT Vibrating Key:
One woman shared this:
Found out something interesting for a way to use Universal Library Key….

So, I love this chocolate cake my grandmother used to buy me. It does make my life complete for about 5 mins then I spend the whole day in sugar/ chemicals depression. I was guided to place VK13 in the fridge with the cake on top of it. Tasted 10x's better and felt great after! Also, noticed all foods in the fridge and freezer tasted better, smelled better and had more positive energy and fuel after eating them. January 27, 2015
Today someone wrote to me and shared this:
Just wanted you to know is that VK 13 has been booting up big time this week all of a sudden. I was asked to place in window at night/ day and there are several vortices spinning in opposite directions simultaneously also at different speeds. May 2o, 2017

Research Anyone?
Maybe someday someone will be inspired to research these rings, someone passionate about the field of sound, who is excited to understand and use its power. We are excited to hear about anyone doing research or discovering new ways to use this tool.

I designed this Vibrakey to be a tool. It comes as a Laminated 9×9″ card. The light side is the front, radiating the Solar Father energies. The Dark side is the back, drawing you into the Lunar Mother energies. I have just updated (May 2017) the eGuide, which comes in PDF form. All I have share come from it and more. It is packed FULL!
Learn more about & Purchase
Laminated VK13 and VK13 eGuide HERE
Order many sizes of Prints and other unique product with this design at my
Related Articles
[/vc_column_text][/vc_column][/vc_row]