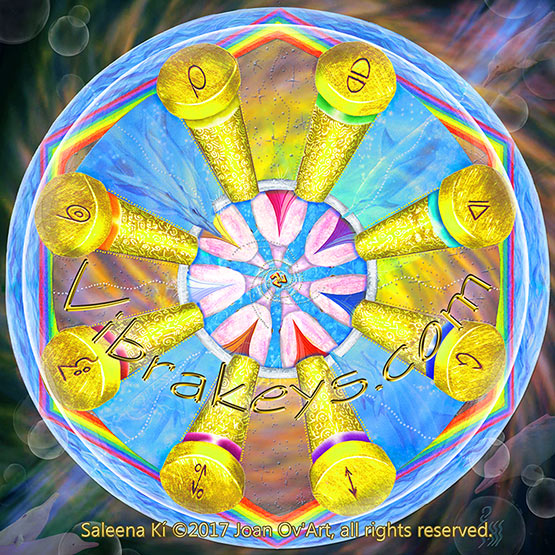 30 Aug

What are VIBRAKEYS For?
What are VIBRAKEYS For?
I have helped to co-create a whole system of energetic ART DESIGNS I call VIBRAKEYS. Each one is designed to activate and enhance your HIGHER SENSES and ABILITIES. To help you ADVANCE your BODY/MIND/SPIRIT so that you can begin to LIVE in and PERCEIVE and PLAY IN the HIGHER DIMENSIONS with HIGHER DIMENSIONAL BEINGS. Even the FAIRIES, and other NATURE SPIRITS live in higher vibrating realms or dimensions than most HUMANS on EARTH experience. We are moving, as a PLANETARY BODY, into HIGHER & HIGHER DIMENSIONS. It can be disorienting and uncomfortable if you are unaware of what is happening. We are experiencing much CHAOS and POLARIZED activities, such as the DARK is getting DARKER and the LIGHT is getting LIGHTER. We are at a pivot point for EARTH and HUMANITY. Anything you can do to become more SERVICE to OTHERS ORIENTED and to help your BODY/MIND to RAISE YOUR VIBRATION to make it more comfortably and more satisfyingly through these shifts is a better option than going CRAZY!
So I believe that my VIBRAKEYS help with this. Please consider using them as TOOLS. The ART is amazing to look at. They are FUN to study and MEDITATE into. Most of them emit POSITIVE WONDERFUL VIBRATIONS into your home or office even if they just sit there. Each one has a built in GUIDE on the BACK to help you with some ideas how to use them to deepen their effects and gifts. Each one has been GIFTED from at least one BENEVOLENT HiGHER DIMENSIONAL BEING or GROUP. Some of them are a TEAM EFFORT, having more than one HOST backing them up. Most people can immediately feel something UNIQUE about these designs.
I started receiving these designs in 1998 and continued to this day… that is almost 20 years of AMAZING GIFTS! Maybe you think that they are too OLD to be helpful in these NEW ENERGIES? Well, the promise that comes with them is that each VIBRAKEY DESIGN is so OMNIDIMENSIONAL that depending on your consciousness level at the time you are interacting with one of the designs, you will be able to access different levels within it. They also change as the whole EARTH SYSTEM shifts. So the levels to access within each "KEY" is limitless. It all depends on YOU.
Are They Safe?
You might wonder HOW I KNOW THEY ARE SAFE and from BENEVOLENT SOURCES? My intention is only to co-create with BENEVOLENT BEINGS or GROUPS that wish to help us make this next transition into an OPTIMAL HIGHER DIMENSIONAL TIMELINE. I have an agreement with the group that oversees the whole system. Every VIBRAKEY DESIGN is linked up to all the rest in a very complex dimensional system. I saw it once, it is AWESOME to behold! Our agreement is that the VIBRAKEYS can only be used when someone is in their HEART. If anyone tries to use the DESIGN for negative purposes, both the senders and the receivers, the whole KEY shuts down. The energies stop moving through it. The CODES and KEYS deactivate. So the POWER in them shuts down.
How do I know this is TRUE?
Well, it happened once when circumstances involving someone I co-created VK23 DOLPHIN'S WINDOW with became difficult. We all went out of our HEARTS. Someone who had that same design and was unaware of what was happening contacted me and said that the most comforting and wonder energies were flowing through their Vibrakey and suddenly it stopped. They wondered if it was broken? Once we cleared the difficulties, they reported their design turned back on! That was one amazing way I saw my agreement was working.