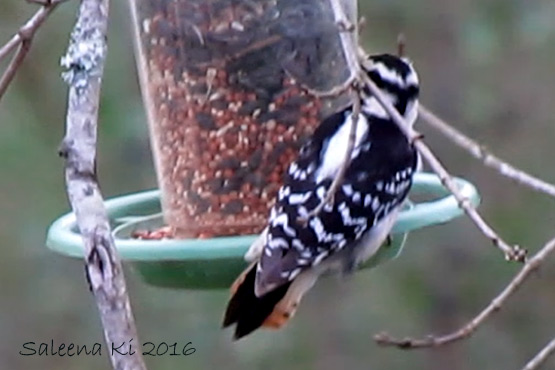 27 Jan

Is Your Winter Garden a Wildlife Habitat?

Posted at 05:06h

in

Birds

,

Blog

,

Butterflies

,

EcoSmart

,

GardenSong Project

,

GardenSong2 Booneville

,

Insects

,

Native Plants

,

Nature

,

New Skills

,

Sustainable Living

0 Comments

Winter is here at GardenSong, though is has been an extremely mild winter. Cold snaps then almost Spring like days. The first thing I do in the morning is grab my camera and peek out all the door to see what Birds are visiting the feeders or Trees. This year has been an extraordinary numbers of Red Cardinals! They are so astonishly beautiful against white snow or tangled branches! Winter feathered American Gold Finches, Carolina Blackcapped Chickadees, Tufted Titmice, Brown Headed Cowbirds, House Sparrows, and  an occasional American Robin or Blue Jay and several kinds of Woodpeckers. ( I am just showing off that I am actually learning the names of my bird neighbors… )

In fact that is how I found Mary Anne Borge. I had snapped a photo of a black and white woodpecker. Only the back of it with a glimpse of the head.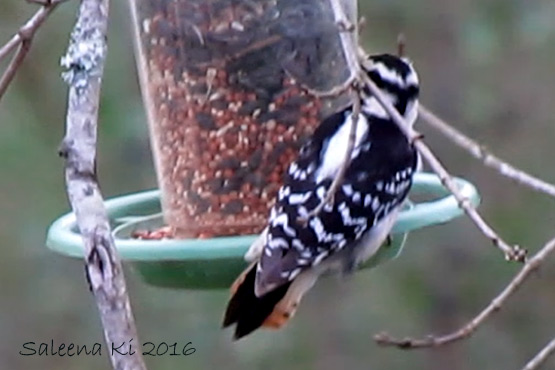 I was trying to identify it and searched for images of the back of a Downy Woodpecker. I found an image and it was so AWEsome I visited the website it sourced from: 
Then I found her post about prepping your Garden-Yard as a friendly Wildlife Habitat:
I am learning new levels about this as I go. Now I realize I cleaned up more than might have been good for my overwintering critters. I remember several years ago Nell, Hugh's sister, mentioning that she leaves the seed pods on the spent flowers in her natural areas in her yard for the birds. It is just starting to sink in what that actually means and how important it is and how devastating a "tidy" "clean" "mowed" yard is to our Butterfly-Bee-Bird populations.
"Thinking about 'cleaning up'your garden for the winter?  You might want to reconsider.  You may be disturbing the winter homes of many of the creatures you enjoy seeing during the warmer months. For example, butterflies may be present in our yards and gardens in some life cycle stage year-round.  Except for species that migrate or live in more hospitable climates, butterflies will need to find a safe haven to survive the cold winter months in northern locations.   Fortunately, providing winter butterfly habitat may be less work than you think." Mary Anne Borge
I thought of our friend, Randy, who has a meadow in Laulima and the once overgrown field turning into a meadow in our newly forming Pollinator Habitat when I read this:
"For those lucky enough to have a meadow, maintenance recommendations include mowing to a height of 12-16 inches in late winter, but it's best not to mow more than a third of a site in a given year.  Although some overwintering butterflies and other beneficial insects will be lost as a result of mowing, the height helps to minimize harm to those whose shelters are at ground level or just above.  The timing offers winter food and cover for birds.  Mowing only a partial site enables the area to be repopulated by residents from the unaffected portions of the meadow." Mary Anne Borge
Mary Borge sums it up nicely: 
"I like the look of nature in winter.  It's fun to search for signs of critters, like a butterfly chrysalis attached to a tree or shrub branch.  A few leaves of grass tied together with silk may be a winter haven for one of the skippers.  With birds foraging for seeds, fruits or insects, that's all I need to keep me interested.  That's a good thing, because the more we can leave their habitat in a natural state, the more good we will do for the insects and birds we enjoy so much." Mary Anne Borge
Anything to help me appreciate Winter more and to help me make better choices in my GardenSong and inspire me to take right action to assist our populations of Butterflies, Bees, Birds and other little critters flourish!
Mary's whole blog The Natural Web is easy to read, with stunning photos and lots of fun tidbits of natural information to explore. It seems to me it would be a great way to share nature with your kids.